This post may contain compensated links. Refer to my disclaimer for more info.
Your hair is
driving you bonkers.
You're hot. You're busy. All you're asking for are a couple quick and easy looks that are adorable enough to wear in public but age appropriate for us ladies.
Yes, please.
Trust me like you have with other beauty hacks – You can do these – even if you think you are "hair styling challenged!" Of course everyone's hair is different, so choose the hair hacks that suit you and your hair the best.
1. Naturally Curly
I know, I know, if you have curls, you don't feel as if your (sometimes) frizzy hair is a blessing, but I want you to see your hair as I do – beautiful and an asset to carefree hairstyles this summer.
No matter the length of your hair, if your curly locks have a good, long-layered haircut and the right hair products, you can scrunch a cute look together in seconds. Let's talk about those essential products that make all of the difference for curly, cool hairstyles for the summer, shall we?
Shampoo and Conditioner – It sure does help to use shampoo and conditioner that is specially made with extra moisture for curly hair, like this one, that set, or the other set. Firm but smooth, shiny curls happen when the hair is moisturized well.
Hair Oil – If you use only high-quality hair oil and apply it correctly, it will wrap around each curl to make it shiny and not frizzy or oily. My favorite is BioSilk Silk Therapy Original Serum. Apply it to the bottom half of your hair strands as soon as you remove the towel from your freshly shampooed hair or when dry but frizzy.
Styling Product – Your hair is going to be fly away and subject to chance unless you apply at least a small amount of curling cream that will give it some direction. A small amount of my favorite styling cream, Sexy Hair Curly Sexy Curl Cream, will give each curl definition so that it looks like separate curls – not a random frizz ball.
Bonus
Curling Spray – This can make your curly hair life so much easier. You'll use this to refresh your curls late in the day or the day after you shampoo. After sleeping on curly hair, some of the hairs are flat, some are straight, some are wild. If you use a curling spray, it pops the curl back in and reactivates your curl cream. Scrunch your hair a tiny bit after spraying the curling spray in and let it air dry.
Here's a hair "recipe" for the best curls, and it's printable.

Cute Hairstyles: Stylist Hacks for Summer HairDos
Ingredients
Curly Hair Shampoo
Curly Hair Conditioner
Wide-Tooth Comb or Pick
BioSilk Serum
Instructions
After shampooing and rinsing, apply conditioner to ends. Gently detangle hair while conditioner remains in the hair. Rinse. Squeeze excess water out of hair and then gently wrap a towel around hair while your head is flipped over. Do not rough up hair with a towel!
Remove towel and while hair is flipped over, apply a few dots of BioSilk serum to the ends. By the time you are dried off and dressed, quickly apply curling cream from roots to ends of your hair. DO NOT COMB THROUGH. Let air dry.
When hair is dry, fluff gently and GO!
For "cool hairstyles," with curly hair, fluff those curls a bit and then pull the top and side sections back and secure with a bobby pins, a hair band, or a special barrette that I describe in detail below.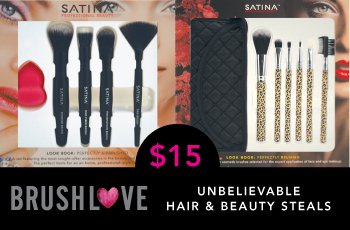 2. Pretty Ponytail
Creating "cool" hairstyles with medium or long hair is essential during the summer, amen? Most of us revert to a ponytail which is fine, but how do you create a pretty ponytail quickly that doesn't look like you just rolled out of bed and pulled it back? It's all in the accessories and hair products. Oh, and it's alright if your ponytail isn't perfect, it's summer.
Before talking about essential products and accessories, let me say that it's great to buy Scrunci
brand accessories for your modern, pretty ponytail, but please, for the love, do not buy a scrunchie itself. Just say, "No!" (For fun, here's a flashback with my scrunchie – let's leave them in that decade, k? K!)
Let's talk about those essential products that I would prescribe for the prettiest, cool ponytails for the summer, want to?
Dry Shampoo – It's the best weapon if you have thin, flat hair, want more volume, or don't shampoo every day. Lift one section at a time of your hair along only the top layer. Give it a little tease underneath and then spritz with a little dry shampoo in this spot. Allow sections to dry for a few seconds before smoothing gently with a comb on the top layer and pulling back in a ponytail elastic. This provides lift and soft fragrance, especially when its lifeless or a little greasy. Currently my favorite is Batiste Dry Shampoo – Original Fragrance
.
Fast-Drying Aerosol Hairspray – After following the directions to a great ponytail above, use an exceptional hairspray that will hold through humility and heat, but then be "comb-able" when you take your hair down. My favorite firm but flexible hairspray of all time is TIGI Bed Head Hard Head Hair Spray
.
The Perfect Barrette – One of my favorite cool hairstyles is one with a ponytail held with a pretty barrette – it looks nicer than just a hair band and it barrettes will lift your hair a little higher off your neck if you position it correctly. However, all barrettes are not created equal. You need one to fit all of your hair into that will also stay put no matter what activities you decide to do. My favorite barrettes are Tubular because they can handle thick hair and they are tough for the long haul
.
3. Simple Braids
I know, braiding can be intimidating, but it doesn't have to be. Instead of pulling your hair back into the same old ponytail, why not pull it to the side and give it what I call a "quick braid and fluff." Young girls start their braids up high, while we, ahem, more mature women should start ours low. In the following video, I'm going to show you how to show you the simplest braid there is, just as slowly as I can. I hope this helps give you one more option for cool hairstyles this summer.
How-to Braid
Whether your days include braids, curly dos, or ponytails, don't stress about perfecting the beauty routine – switch it up for summer and do your best. After all, you'll never get this summer back so have a little fun, will ya?
What cool hairstyles are you rocking for summer?
Other hacks you might enjoy:
How to Sneak coconut oil into the house
Summer Beauty Hacks you need in your life
Beauty Basics you're probably doing all wrong!
Skincare Hacks every woman should be doing