Welcome! I'm so glad that you are here. Yep, that's me with the wind-swept hair. A wife and a mom nicknamed the How-to guru by those that know how passionate I've been about sharing family-friendly destinations in the beautiful south for years.
ABOUT THE HOW-TO GURU
My heart is being a wife and Mom that simply loves sharing the scoop with other women about the best hotels, resorts, restaurants, and attractions so that your next family vacation in the south can be the best one yet AND create a calm and cozy haven that you don't dread coming home to after that vacay!
I'm the creator of The How-to Guru brand and am a journalist for southern magazines and newspapers – specializing in southern travel and inspirational human interest stories. Published in Huffington Post, multiple magazines, newspapers, and sites, I'm living the writer life and I couldn't be more thrilled!
I'm very choosy about working with brands, but have been blessed to work with Walt Disney World, The Jekyll Island Club, Marineland, Havana Cabana Key West, Theater of the Sea, and Bona Floor Cleaner to name a few. If you'd like to collaborate, click HERE.
ABOUT THE GURU CREW
I'm married to Superman ~ an intimidating Michael Chiklis look-alike who is great at anything he does (seriously!) with a commanding presence that makes everyone feel safe. His nickname suits him well since he always saves the day with his quick decisions and get-it-done personality.
Our youngest is Princess ~ a prissy tomboy with an incredible servant's heart who is captivated by the ocean, fashion, fast-pitch softball, country life, animals, volleyball, and justice who gained her nickname early for her love of girlie things. However, she's an amazingly diverse young woman with a heart of gold – evened out with southern sass.
Our oldest is Captain ~ a fitness lover & adrenaline junkie who loves travel, weapons, history, and whose nickname, Captain America, was penned by friends as he left for Army boot camp at 18. He found his bride for life while in college and married the girl I have prayed for all of his life.
I'm a Mom-in-law to E ~ a God-loving & adventure-seeking darling that fits right into our crazy. She's a PR and marketing genius that loves people, animals, and adventure. I use this nickname for her almost daily because I'm too lazy to say her three-syllable name.
WHY THE HOW-TO GURU NAME?
I only chose the How-to Guru because it was catchy and seemed to reflect my heart of sharing How-Tos. I certainly don't think I know "how-to" do it all but love to share home and travel tips and hacks to help you lose overwhelm and feel like a travel-planning and cozy home guru in your own right!
It's hard to get the details that us ladies NEED to know from typical hotel or venue websites. I love sharing details, tips, and insider secrets of what you need to pack, leave at home, where to go, areas to skip, where the food's at, and more – from a Mom's perspective – golden!
Also, I know how frustrating it can be to not want the hassle of planning a family trip to only dread the chaos of returning home. Not only will you enjoy planning your vacations more around here, but I also adore sharing home hacks like easy recipes, cleaning tips, organization, and family friendly home entertainment that creates a calm and cozy haven you love and can't wait to come home to!
I'm asked by women all the time that are weary from planning failed vacations and then the dread of returning to a house of chaos:
the best places to entertain older kids?
how do you manage such an organized home?
the best attractions in the South for 14-year olds?
how do you keep up with all of the laundry?
family vacation ideas with lots of options for olders?
are there any safe movies we can watch as a family anymore?
the best Southern resorts within walking distance to food & attractions?
how do I begin to cook at home more when I don't know where to start?
the best family trips in the South for the money?
I hope you are encouraged here!
THE HOW-TO GURU TRAVELS
Georgia born and raised, I'm the happiest when traveling or planning the next trip. It fuels me ~ hence the reason I'm a Travel Journalist. I've been fortunate to have traveled to Europe and to over half of the United States so far. Southern Family Travel is what I love. Check out this fun map of my U.S. travels: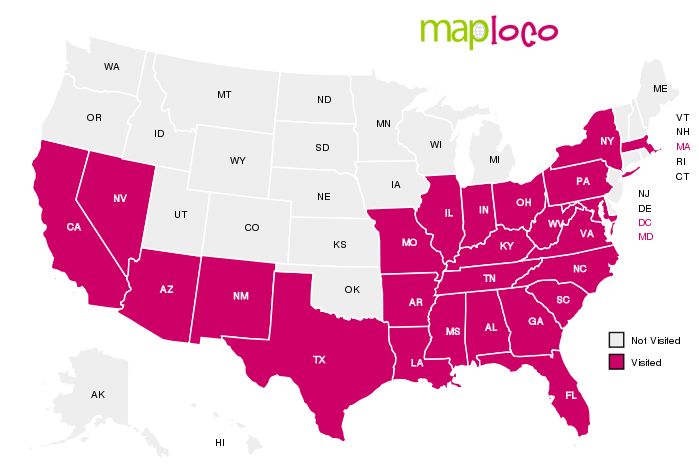 TOP CONTRIBUTOR FOR:
Huffington Post 4 Best Vacation Spots For Memorable Family Summers
Huffington Post One Of The Fun Places For Kids In The South You Should Know About
Showcase Publications Magazines
TOP POSTS
Here are the posts that you've enjoyed the most so far. Click each image to be taken to the post or to pin for later!
☀️ Insider travel secrets ☀️
to Southern U.S. Destinations
that Women REALLY want to know
&
Tips to create a
✨ cozy haven ✨
you can't wait to come home to!
REAL LIFE travel tips
& home struggle success
from a Wife & Mom
☕️ [It's THE REAL DEAL, Mam] ☕️
You can find The How-to Guru on Facebook, Twitter, or Instagram. If I can encourage you in any way, please reach out to me at shan@thehowtoguru.org