Hi, friend!  I'm so glad YOU are here with me, The How-to Guru.
Yep, that's me with the wind-swept hair and life.  The heart of The How-to Guru is motivating busy women with hope and hacks for the best Family Travel, Beauty, and WifeHood.
Married to Superman ~ an intimidating Michael Chiklis look-alike who is great at anything he does with a commanding presence that makes everyone feel safe.  His nickname suits him well since he can always save the day.
Mom to Captain America ~ a fitness lover & adrenaline junkie who loves travel and adventure and whose nickname was penned by friends as he left for Army boot camp.  He found his bride for life and was recently married to the girl I have prayed for all of his life.
Mom to Princess ~ a prissy, tomboy with an incredible servant's heart who is captivated by adoption, adventure, fashion, fast-pitch softball, country life, playing the piano, volleyball, and State Troopers.  She's amazingly diverse.
Mom-in-Love to E~ a God-loving & adventure-seeking darling woman that the Lord made just for Captain.  She fits right into our crazy.
My Cup Runneth over!
My heart is motivating wives to live life abundantly.  I wrote my book, Guru Hacks for a Healthy Happy Home for that purpose. I used to be that stressed-out wife that couldn't seem to get it together. It thrills my heart to have ladies tell me how they enjoy being a wife and homemaker more because of the hacks and hope they gained from this site.
I created this space for the WifeLife community for women to encourage each other in Christian marriage, family travel plans, beauty advice, and wellness tips as we strive to be the women God is calling us to be.
Why did I choose the name The How-to Guru?
It wasn't because I'm presumptuous to think I know-it-all.  Nothing could be further from the truth!  I adore sharing tutorials on what I've learned as a Wife, Homemaker, Mom, and a Stylist.  I'm just a Jesus-loving, life-long learner. I hope you are encouraged here!
Want to know more?
Georgia born and raised, I'm the happiest when I am traveling or planning a trip. It fuels me ~ hence the reason I'm a Travel Journalist. I've been fortunate to have traveled to Europe and half of the states so far. Southern Family Travel is what I do.  Check out this fun map of my U.S. travels: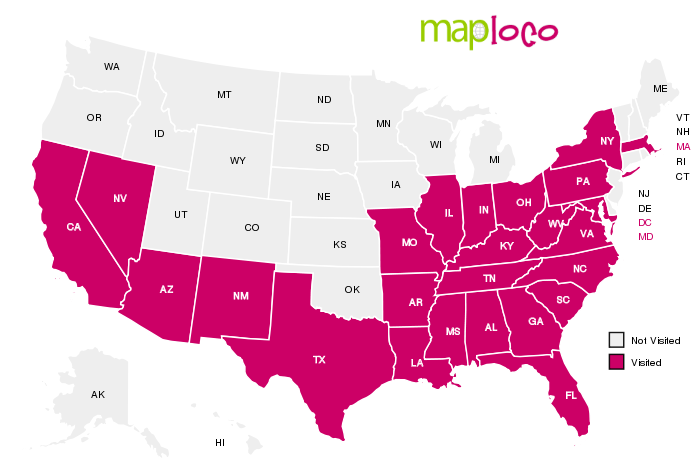 Top Publications that I have contributed to:
Top Posts of all time
Find more wife motivation on my Pinterest page or let's connect on Facebook, Twitter, or Instagram.  If I can pray for you or encourage you in any way, leave me a comment or message here or on any of my social media.
Read all about my disclaimer and terms HERE!