Hi, friend and welcome! I'm so glad YOU are here with me, the How-to Guru.  Yep, that's me with the wind-swept hair and life.
TIRED OF FLOPPED FAMILY VACATIONS & THE DREAD OF RETURNING TO THE CHAOS OF HOME???
I'm asked by Moms all the time:
the best places to entertain older kids?
the best attractions in the South for 14-year olds?
family vacation ideas with lots of options for olders?
the best Southern resorts within walking distance to food & attractions?
the best family trips in the South for the money?
Well, you've come to the right place.  I adore helping busy women with:
☀️ insider travel secrets ☀️
to Southern U.S. Destinations
that Moms REALLY want to know
&
tips to create a
✨ cozy haven ✨
you can't wait to come home to!
REAL LIFE travel tips
& home struggle success
from a Wife & Mom
☕️ [It's THE REAL DEAL, Mam] ☕️
My people
Married to Superman ~ an intimidating Michael Chiklis look-alike who is great at anything he does with a commanding presence that makes everyone feel safe.  His nickname suits him well since he can always save the day.
Mom to Captain America ~ a fitness lover & adrenaline junkie who loves travel and adventure and whose nickname was penned by friends as he left for Army boot camp.  He found his bride for life and was recently married to the girl I have prayed for all of his life.
Mom to Princess ~ a prissy, tomboy with an incredible servant's heart who is captivated by adoption, adventure, fashion, fast-pitch softball, country life, playing the piano, volleyball, and State Troopers.  She's amazingly diverse.
Mother-in-law to E ~ a God-loving & adventure-seeking darling woman that the Lord made just for Captain.  She fits right into our craziness.
My Cup Runneth Over!
My heart is motivating wives to live life abundantly.  I wrote my book, Guru Hacks for a Healthy Happy Home for that purpose. I used to be that stressed-out wife that couldn't seem to get it together, and I still do some days. Then I remember the hope and hacks that I've hidden in my back pocket as an, ahem, older wifey.
I'm thrilled to share the helpful things I've learned along the way to actually enjoy my husband, home, family, and travel trips. This is a no-judge, wifey zone, and community for women to encourage each other as well.  Just in here or on my social media and help each other out because we're all in this together!
How the Guru got her name?
It wasn't because I know-it-all.  Nothing could be further from the truth!  I just adore sharing tutorials on what I've learned as a Wife, Homemaker, and family travel writer.  I'm just a Jesus-loving, life-long learner.  I hope you are encouraged here!
Want to know more?
Georgia born and raised, I'm the happiest when I am traveling or planning a trip. It fuels me ~ hence the reason I'm a Travel Journalist. I've been fortunate to have traveled to Europe and half of the states so far. Southern Family Travel is what I do and share.  Check out this fun map of my U.S. travels: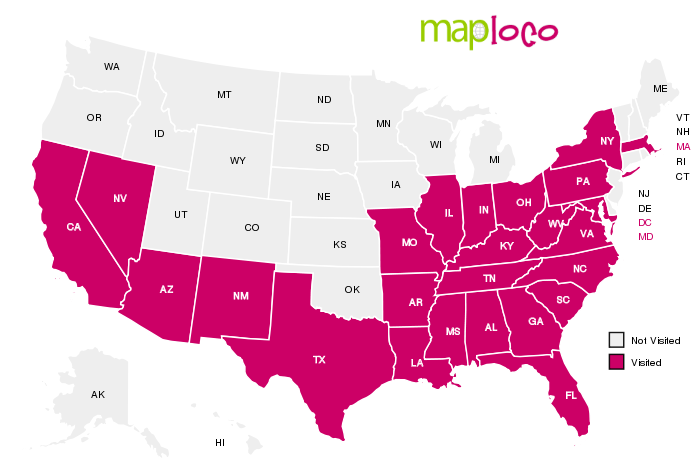 Top Publications I've contributed to
Top Posts on The How-to Guru
The most popular subjects 'round here are family travel, easy Southern recipes, marriage, and family-friendly entertainment. Here are the top 4 posts from each area of wife life you have loved the most:
7 Reasons Jekyll is a Must-See this Fall & Winter
Cheeseburger Pie: Low Carb + Easy (Day #19 of 31 Days of Delicious Easy Recipes)
How to become a submissive wife when you don't want to put him first! Gasp!
The Ultimate Cool Movies List for Families that you forgot or didn't know about!
Find daily wife motivation, let's connect on The How-to Guru social media:  Facebook, Twitter, or Instagram.  If I can pray for you or encourage you in any way, leave me a message below.
Read all about The How-to Guru disclaimer and terms HERE!